Back to Latest News
Sustainability Steps Taken So Far
:: 18/10/2021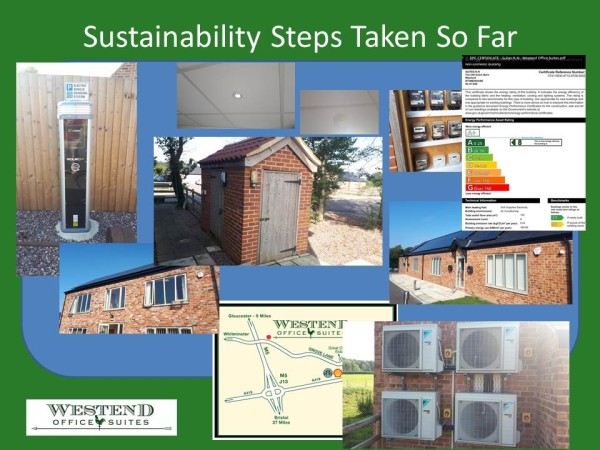 Sustainability steps taken so far at Westend Office Suites:

1) Our customers are local and therefore Westend Office Suites reduces the carbon footprint of our customers who would otherwise travel further.

2) We have installed a high speed dual electric car charger.

3) We have solar panels on all roof building which are not listed.

4) We provide secure waterproof bicycle storage on site.

5) We provide highly efficient air source heat pump type heating and cooling.

6) Each suite has its own electricity meter which allows electricity consumption to be tracked by each customer and encourages them to be economic in their power use. As using less power results in a lower bill for them as opposed to a percentage allocation of electricity which encourages high use of electricity by individual customers.

7) We install LED lighting in all our new building which are very efficient and we have retrofitted LED into our existing buildings. This is further supported by sensors which only turn on lights in common areas when people are actually there.

8) In the attached picture you can see that our latest building completed in 2020 is close to carbon neutral. It achieves a rating of 8 with 0 being carbon neutral with similar other new buildings having an average rating of 31

We are open to further measures and are researching what else we can do to contribute to solution in reducing carbon emissions.