Back to Latest News
Westend Office Suites sponsors Canal Bollard
:: 25/04/2021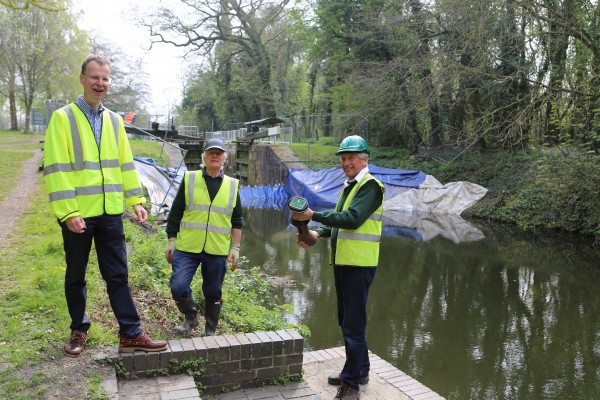 On Wednesday 21st April 2021 Cotswold Canals Trust Volunteers met Russell Warner, founder and owner of Westend Office Suites at Blunder Lock to present him with his sponsored heritage bollard.

Russell Warner, returned to Gloucestershire after a career travelling the world working in international business, he said "It is fantastic to be involved in this community project and great to be able to contribute something that will have a lasting impact for generations at the same time as promoting Westend Office Suites. I am looking forward to seeing the progress of the canal restoration and knowing that my company's sponsored bollard has helped along the way."

"I fully recommend that companies take advantage of this unique opportunity to support and be part of the future of the Stroud Valleys industrial heartland. It is remarkable what the volunteers of the Cotswold Canals Trust have achieved for this area, now is our chance to get behind them and show our support"

Westend Office Suites is a local business situated near to the Stroud Water Navigation Canal and is now the proud sponsor of two bollards as part of the Canal Trusts Fundraising. One bollard will be placed at Pike Lock in 2022. The second will be cemented into the lock side at Blunder Lock, being restored right now. Both locations are in Eastington and approximately a mile from Westend Office Suites.

The Charity are raising funds for the restoration of the Stroudwater Navigation Canal by offering local companies the unique opportunity to cast their names in mooring bollards along the 4.5mile canal corridor.

The first of eight locks to be getting its facelift is Blunder Lock in Eastington, where Westend Office Suites will have their first bollard installed. You can see the volunteers in action alongside the A419.

Aimee Malcolm, Cotswold Canals Trust Charity Ambassador said "we were thrilled to welcome Russell to receive his sponsored heritage bollard this week. Westend Office Suites will be the first to be installed on the Stroudwater Navigation and we have others in the office ready for installation.

"If you fancy adding your name to a bespoke mooring bollard, please get in touch with the charity on mail@cotswoldcanals.org"

The Stroud Valleys continue to prosper from the numerous and varied successful industries which together continue to build on our rich legacy of industrial heritage.
To celebrate this, the Cotswold Canals Trust has created a celebratory heritage mooring bollard, which anyone can sponsor, there are over 100 to choose from and they can be personalised with any short message.